Appalachian State vs Louisiana Lafayette Prediction & College Football Odds for Week 7
Appalachian State covers the spread
Appalachian State gets the win
Bet the under on this one
Tuesday night will feature a Sun Belt matchup that could determine who wins the conference and who's the odd man out. Appalachian State and Louisiana Lafayette are both 4-1, and they have achieved those records in a similar manner. Neither team is an offensive powerhouse that's going to put up 60 points a game, and neither defense is going to shut down the opposing team.
The Rajun Cajuns come into Tuesday's game with a defense that gives up 22.8 points per game and only scores 28.4. That's not a very large margin for error, but it's been good enough for a 4-1 record.
The Mountaineers of Appalachia are surrendering 20 points per game and scoring 35.2. Overall, the Appalachian State Mountaineers have been more dominant in their victories than Louisiana, but this matchup could shake all that up.
Betting Odds & Lines for This Game
Spread: Appalachian State: -3 Louisiana Lafayette: +3
MoneyLine: Appalachian State: -155 Louisiana Lafayette: +135
Total: 54.5
All odds listed are courtesy of (PointsBet | Caesars | DraftKings | Fanduel | BetRivers)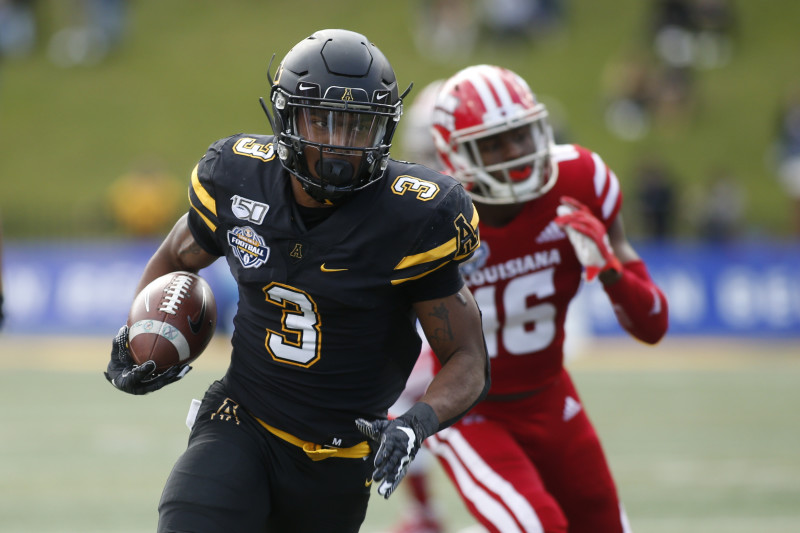 Appalachian State vs Louisiana Lafayette Prediction: Spread
The spread on this one is tighter than most Sun Belt matchups to this date. This contest features similar teams with styles that are nearly identical, and it should be a good one on Tuesday night in Louisiana.
Appalachian State is favored by 3 points in this contest and looks like the slightly better team. The Rajun Cajuns, however, are 14-3 in their last 17 home games, and they're the hosting team this week. Anything could happen tomorrow night, but betting on Appalachian State is the safe bet for this game.
Free Prediction: Appalachian State beats the spread
Appalachian State vs Louisiana Lafayette Prediction: MoneyLine
The Mountaineers should be 5-0. Their only loss came against the University of Miami in week 2 and they were within a field goal of winning that one. Mountaineer quarterback Chase Brice is off to a solid start to the season, completing 68 percent of his passes and throwing for 8 touchdowns and 1,360 yards.
A big part of their offense has been the ground game which is averaging a hair under 200 yards per game.
The Rajun Cajuns have enjoyed similar success on offense, but not to the extent of the Mountaineers. Quarterback Levin Lewis has over 1,000 yards passing and has thrown for seven touchdowns.
The ground game is averaging 168 yards per game and has accounted for nearly half of Louisiana's offensive production.
Free Prediction: Appalachian State with the win
Appalachian State vs Louisiana Lafayette Prediction: Total
Both teams have solid defenses and offenses that can struggle at times. Don't be surprised if this one gets decided into the fourth quarter and the point total is low. The better defense will decide the outcome of this game. Appalachian State 28 Louisiana Lafayette 21
Free Prediction: Point total will equal 49
Bet on This College Football Game
---
Join our Discord
to leave a question or comment regarding this article. We have sports fans talking betting all day — every day! JOIN THE DISCORD NOW AND QUALIFY FOR PRIZES & BETTING SWAG!
---