Jalon Daniels Out Is A Major Loss For Kansas
Jalon Daniels had just taken the college football world by storm right before getting injured. What is Kansas's chances moving forward?
Jalon Daniels Out Is A Major Loss For Kansas
The sold-out David Booth Kansas Memorial Stadium sat in silence early into the Jayhawks' game against TCU as their star QB Jalon Daniels was injured and taken out of the game, quickly ruled as a no-return. The Junior QB just reached the 1,000 passing yard mark for the year right before getting injured in what is a major loss for this Jayhawks team that is having a miraculous season when it comes to KU standards.
The Jayhawks prepare to go to Norman to take on Oklahoma without their star QB, who some reports claim is out for the remainder of the season though Daniels seemingly refuted the claim on his personal Twitter. With the injury hanging as a dark cloud over the program and no exact timeline of recovery has left some KU fans to already throw in the season that had once seemed so optimistic for the Jayhawk faithful.
Jalon Daniels Was Leading The Way
Daniels has been with Kansas for a few years, joining the squad back in 2020. He has seen a considerable amount of action in his first two seasons, with the team having completed 157 of 269 for 1,578 yards and 8 TDS to 7 INTS. Daniels seemed to find his groove this year, which ignited a spark in this Kansas team, as he led the Jayhawks to more wins this year than in all his previous seasons combined.
This year in about six and a half games, the KU QB threw 78 of 117 for 1,072 yards, 11 TDS, and only 1 INT. Leading the Hawks to an early 5-1 record and the first Kansas football team to have five wins since 2009 under Mark Mangino. The Jayhawks will definitely miss Daniels as the team looks down the road toward more conference play.
Jason Bean Stepping In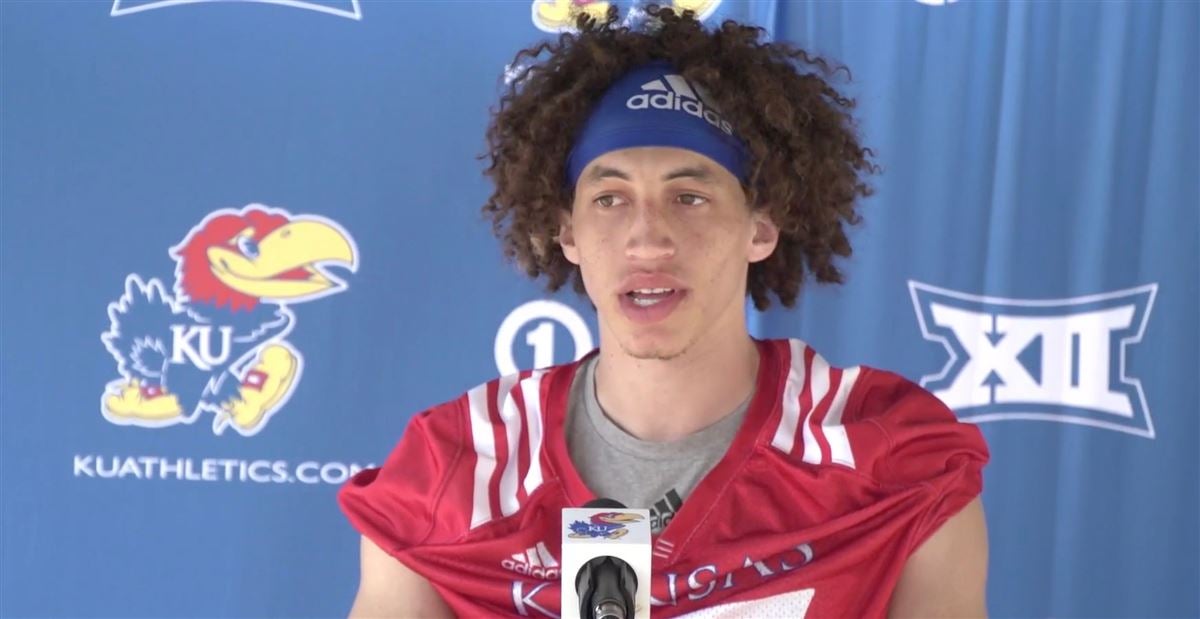 The Jayhawks will instead turn to Jason Bean, a fifth-year senior who is no stranger to the KU football program. Bean transferred to KU after three years with the Mean Green of the University of North Texas. Bean ended up getting the start for nine games last year before being sidelined with an injury.
Bean kept the Jayhawks alive against TCU, giving them a real shot to find a way to win late, but unfortunately, they were unable to pull it through in a 38-31 loss. In the loss, however, Bean went 16 of 24 for 262 yards scoring 4 TDs while giving up a lone but crucial INT. Bean would end the game with a 90.1 QBR and looks to continue his success against the Sooners.
Listen, Jason Bean is going to be a fine replacement while Daniels is injured. No matter how long Daniels is out, as long as Bean plays the way he did against TCU, he will give Kansas a shot to win every game. Daniels was having what some were calling Heisman season, and losing him would be a huge loss for any team, but fans seem to view it as a lethal blow to a team that so rarely delivers.
---
Join our Discord
to leave a question or comment regarding this article. We have sports fans talking betting all day — every day! JOIN THE DISCORD NOW AND QUALIFY FOR PRIZES & BETTING SWAG!
---